How to Get Insights from Customer Data Platform (CDP)?
A customer data platform (CDP) is a software system that is used to not only collate customer data from disparate sources but also to provide insights to help improve your business. It includes maintaining data warehouses, drawing up customer profiles, keeping activity logs, and developing profiling models. Know how to get actionable insights from customer data platforms.
The ideal customer data platform (CDP) offers all of these benefits: it automates the process of aggregating data, giving the user insights into their own business, and helps them grow their customer base. 
One of the many functions of a CDP is to help businesses find out which marketing methods are working best for customer retention. With global marketing budgets in a squeeze because of the COVID-19 pandemic, it has become imperative for marketing divisions to be even more focused on their campaigns. Therefore, getting a CDP has become even more essential today.
In this post, we will focus on how you can actually use data-based insights from a CDP to improve operations, generate new revenue, enhance customer relations, better product development; all of which will eventually lead to business growth.
What Is A CDP? 
A customer data platform is a system that captures, stores, and analyzes all data across channels and devices, offline and online, and then uses the insights to create personalized experiences for each customer.
In the traditional model, a customer data platform is implemented as a "SaaS" solution that runs on-premises and provides centralized management, reporting, analytics, and automated marketing for all customer interactions. But the customer data platform can be implemented not only on-premises but also in the cloud. In addition to its native support for both MySQL and PostgreSQL, it also supports SQL Server.
A CDP is an interactive and predictive analytics system that collects data from different sources and stores them into one centralized database. A customer data platform is a type of software that combines CRM and marketing automation. 
The term "Customer Data Platform" has been used to refer to both customer relationship management (CRM) and marketing automation software. The terms CRM and Marketing Automation are sometimes used interchangeably, but remember, customers are different from clients in that they are not necessarily repeated business for the organizations that use them.
According to Gartner, there are four types of CDP: Marketing Cloud, Smart Hub, Marketing Data Integration, and CDP Engines and Toolkits.
How Oyster CDP's Recommendation Engine can Improve Conversion

CDP Simplifies Marketing By Providing Insights On Each Prospect
Marketing budgets have fallen to their lowest recorded level, dropping to 6.4 percent of company revenue in 2021 from 11 percent in 2020, according to Gartner, Inc. In the annual Gartner CMO Spend Survey, Gartner surveyed 400 CMO and marketing leaders in North America, the UK, France, and Germany from March 2021 through May 2021, tracking the critical areas marketers are investing in and where cuts are being made from people, programs and technologies.
Clearly, with fewer funds, marketing divisions need to be even more focused in their campaigns to hit the right customer profile with the right message. A CDP can be of immense help here.
A customer data platform is a solution that simplifies the marketing process by providing actionable insights on each prospect. These come from data collected from various sources and provide an in-depth analysis of a prospect's values, attitudes, needs, and preferences.
A CDP provides a complete profile of each customer that can be used to improve marketing campaigns by identifying the right prospects, segmenting them into target groups, and optimizing the message to reach the optimal number of customers.
Data from customer interactions are mostly collected in "data silos." Modern marketing relies heavily on customer data platforms to break down these silos. The information age is not just about the digital world; it also includes how to use data from customer interactions to create better service and more effective marketing. 
Customer Dashboards: Which Metrics To Track 
A CDP comes with what's called a "customer dashboard". This tool allows a company to visualize customer performance, optimize customer service and build loyalty with customers. An important component of any customer dashboard is the metrics that are used to measure performance and progress.
There are many different metrics that a customer data platform provides that can be helpful for marketing teams. These include:
the number of contacts

the number of successful contacts

the number of contacts with a high retention rate

the number of contacts with a high conversion rate
Customer data platforms are used to find out customer wants, measure the efficacy of marketing campaigns, and provide actionable insights into customer behavior. Many companies use these platforms to gather and analyze data about their customers in order to improve marketing and sales efforts.
Enterprises use CDPs to boost their business by better understanding their customers. Companies such as Google and Facebook use customer data platforms to be able to better understand their customers, which can lead to better marketing strategies and sales increases.
How To Use Actionable Insights From Customer Data Platform
With customer data platforms, businesses can collect, store, manage, and analyze all of their data from multiple sources in one place. This includes customer-facing data like purchase history, customer service data, and social media activity. 
The process of data collection, measurement, and discovery are called data-driven management. It refers to the process of collecting relevant data and using it to make decisions.
A robust customer data platform like Express Analytics' Oyster includes the following business intelligence moving parts: 
Data science: Knowledge discovery in databases

Data analytics: data mining, data cleaning, data warehousing, data preparation, data integration, data modeling, data visualization
Digital marketing: customer segmentation, customer profiling analytics
Product: development, inventory management
Machine learning: Use of AI in data preparation, data quality, data warehousing, data visualization

 
Using Insights To Understand Customers
By now it may have become fairly obvious to you that it is not enough to simply store all of your customer data in one place. That's the first half of a CDP's functions. The other "critical" half is to use customer data analytics, which means using this data to understand how customers are using a product or service, what they like and don't like about it, and how their behavior can be changed.
Using CDPs, companies can track and analyze data from various sources, such as website visits, mobile app use, social media interaction, and offline purchases, to better understand the customer journey. Data can then be used to identify points of friction that may lead to churn among customers. By tracking and analyzing website usage, businesses can improve their customer experience through a better understanding of the customer journey. Analyzing mobile app users can help companies identify friction points and improve customer experience.
Cost optimization is an important business initiative. With so many companies competing for customers, it is important to have an edge over the competition. One way to be competitive is to use customer data to deliver actionable insights. 
Increased competition has put pressure on companies to ensure a level of customer service that keeps customers coming back, but also makes them recommend the company to others. Analyzing customer data can help companies to improve customer service and reduce costs. 
Using a CDP companies can: 
Evaluate the data collected from the customer

Make a hypothesis to solve a customer need
Suggest a solution
Test out the solution with customers
Repeat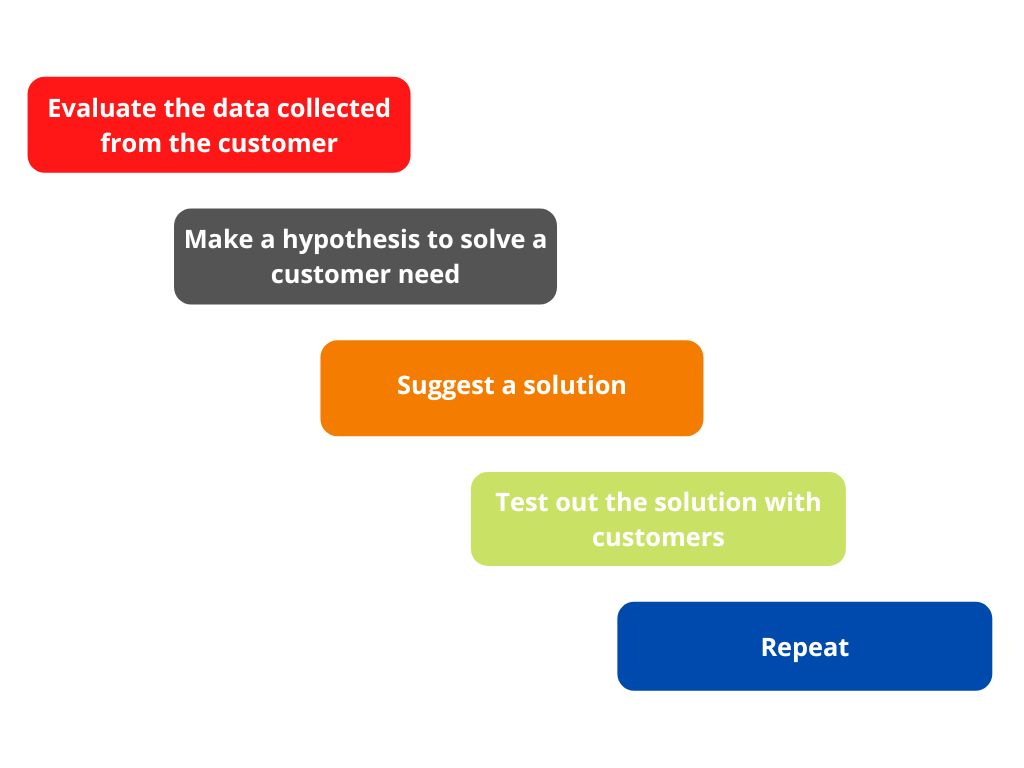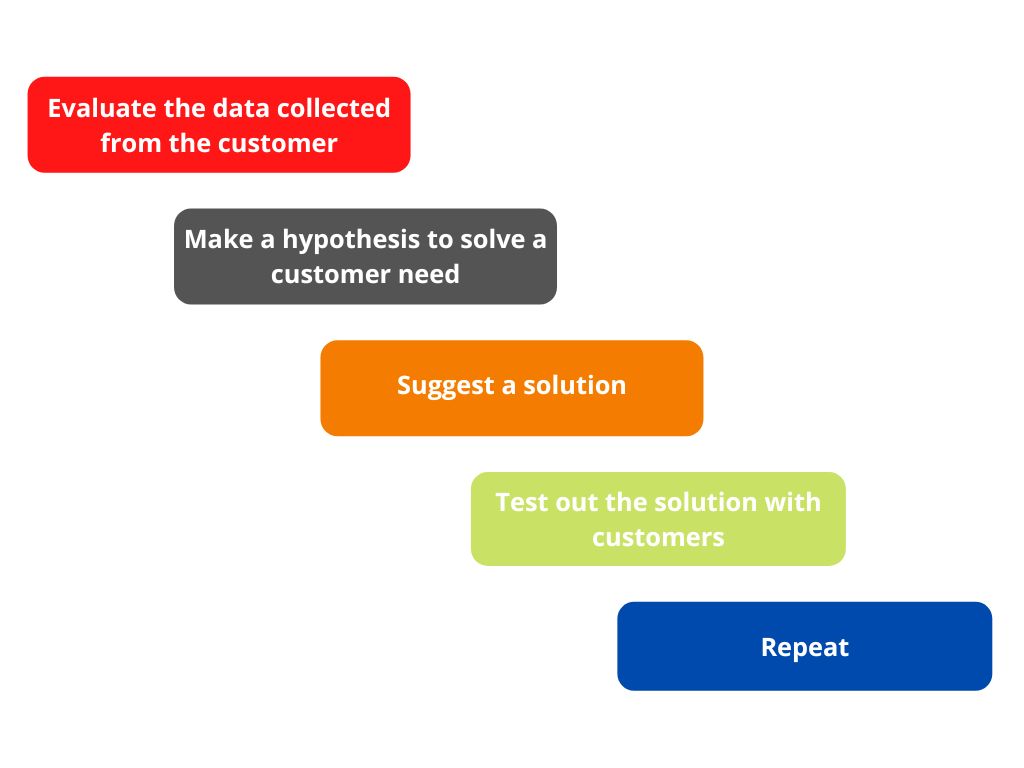 For example, a company might want to improve its customer onboarding process. Data collected from the customer could include:
Customer type

Churn rate
Reason for churn
Length of relationship
Number of products they use
How Exactly Are These Insights Derived? Data Modeling Is The First Phase
Data modeling is the process of analyzing a dataset or database to find patterns and trends, as well as to identify how these patterns could be used to generate insights. From data modeling, you can gain actionable insights from your customer data platform. This is also an area where machine learning is increasingly being deployed these days.
Data modeling is the process of choosing a data model for a specific business problem. It is the process of mapping the business requirements to a conceptual data model in order to solve the business problem. A data model is a representation of what data is and how it is related.
Data modeling is typically carried out in two phases:
The first phase is a feasibility study, where a team of data experts creates a list of business requirements that are mapped to an appropriate data model. The second phase is a data design phase, where the data experts re-formulate the business requirements into a data model.
The goal of the data modeling phase: is to create a data model that can be used to meet business requirements. The latter is typically expressed in terms of data needs. The data needs can be expressed in a variety of ways. If the business requirements are expressed in terms of data needs then the data needs must be translated into the data model format using appropriate data modeling techniques. The data model is then used to design the database schema. The database schema is a description of how data will be stored in the database. The goal of the data modeling phase is to create a data model that can be used to meet business requirements.
Furthermore, the data model must conform to the business rules expressed in the requirements. The data model must also be flexible enough to accommodate future changes.
Once your data model has been developed, tried, and tested, it needs to be operationalized. For this, you need to understand where it will sit in your tech stack. Customer data platforms provide a single repository of customer data that can be accessed and analyzed in real-time by different departments. The monitoring of the data model output can be done on a general or customized dashboard, with built-in alerts. What's more, the analysis provided on customized dashboards can help even employees without any knowledge of data analytics understand it.
CDP Insights: Going Beyond Just Marketing And Customer Relations
Customer data platforms need not be limited to just marketing. CDPs are multi-functional. In many cases, they can be used to integrate and manage the following functions:
Inventory management systems (such as SAP)

Customer relationship management systems

Salesforce 
Insights gained from analysis in a CDP can also be used for product management and pricing, Sales and Marketing, product development, manufacturing, logistics, customer support, and finance. 
Demand generation: This is used to create new customer relationships. Customer relationship management – this is used to manage existing customer relationships. Marketing automation – This is used to track and optimize marketing activities.
Customer satisfaction: Customer data platforms are emerging as a leading means of providing data that can be used to support business decisions. They are a full-service data solution that allows businesses to receive, manage and analyze customer data in a way that is both secure and easily accessible. This allows businesses to have a constant view of their customers, giving them the ability to adapt and improve their sales and marketing strategies. 
Product development: A company might want to understand the lifetime value of their customers or what their customers' preferences are for different products. A customer data platform provides this information almost instantly. This data is also available to external partners that the company may want to work with. Customer data platforms are generally installed and managed by the IT department. However, there are also tools available that can be used by non-IT departments to manage and maintain a customer data platform. 
In conclusion: Customer data platforms are not to be used only to simply collate data in one place. They help in deriving insights from the data for not only marketing but also activities such as customer satisfaction and product development, all of which eventually help in growing your business.
There are several advantages to using customer data platforms:
Ease of deployment

Cost efficiency

Increased customer engagement

Faster and better decision making

Improved sales

Improved customer retention

Increased cross-sells and upsells

Decreased customer churn

Better product development

Increased sales

Reduced operational costs
An Engine That Drives Customer Intelligence
Oyster is not just a customer data platform (CDP). It is the world's first customer insights platform (CIP). Why? At its core is your customer. Oyster is a "data unifying software."
Liked This Article?
Gain more insights, case studies, information on our product, customer data platform