Sentiment Analysis Tools: How to Select the Right One for Businesses
It is often helpful to review the sentiments of your consumers when analyzing a business. Analyzing buyer sentiments is to ensure that the perceptions others have of your brand are the same as the ones you believe they should be.
Any industry can use sentiment analysis tools, including finance, retail, hospitality, and technology, using either the available software or developing it in-house.
Often, when you're analyzing a business, reviewing the sentiments of your consumers can be really valuable. You may want to compare the perceptions others have of your organization or brand to what you think they should be.
Sentiment analysis is applicable in any industry, including finance, retail, hospitality, and technology. In this post, we'll explain how sentiment analysis tools work, and how to zero in on the right ones for your business.
Table Of Contents
Quick Introduction of Sentiment Analysis
To get started, let's talk about sentiment analysis basics. Sentiment analysis is the process of analyzing how a specific topic, or your brand, for that matter, is being perceived.
That means you can use sentiment analysis to tell if your customers are happy, neutral, or angry about something you're marketing.
Sentiment Analysis is used for social media monitoring, the voice of customer (VoC) analytics, and customer service, to name a few of the applications.
It's a type of analytics that can be valuable for companies who want to understand the strengths and weaknesses of their marketing campaigns, organizations that want to monitor the attitudes of those on the front lines, and enterprises trying to find out how their products or services are being viewed.
Sentiment analysis can also be used to determine if negative feedback is more prevalent than positive feedback.
For example, if the people have left more negative than positive comments on your Yelp reviews, that's not a good sign at all.
How Do Marketers Benefit from Sentiment Analysis Software?
With Sentiment Analysis Software you can discover positive, negative, and neutral discussions about your businesses, opponents, or any key phrases you want.
Shields Your Reputation
Discovers negative remarks and exchange talk to their writers before they turn into a PR disaster.
Helps to find Marketing Insights
Study what your clientele thinks about your services and products and alter your proposal to meet their requirements.
Improve Customer Service
Buyers discuss services and products on the networking platform and social media more often than straight to you.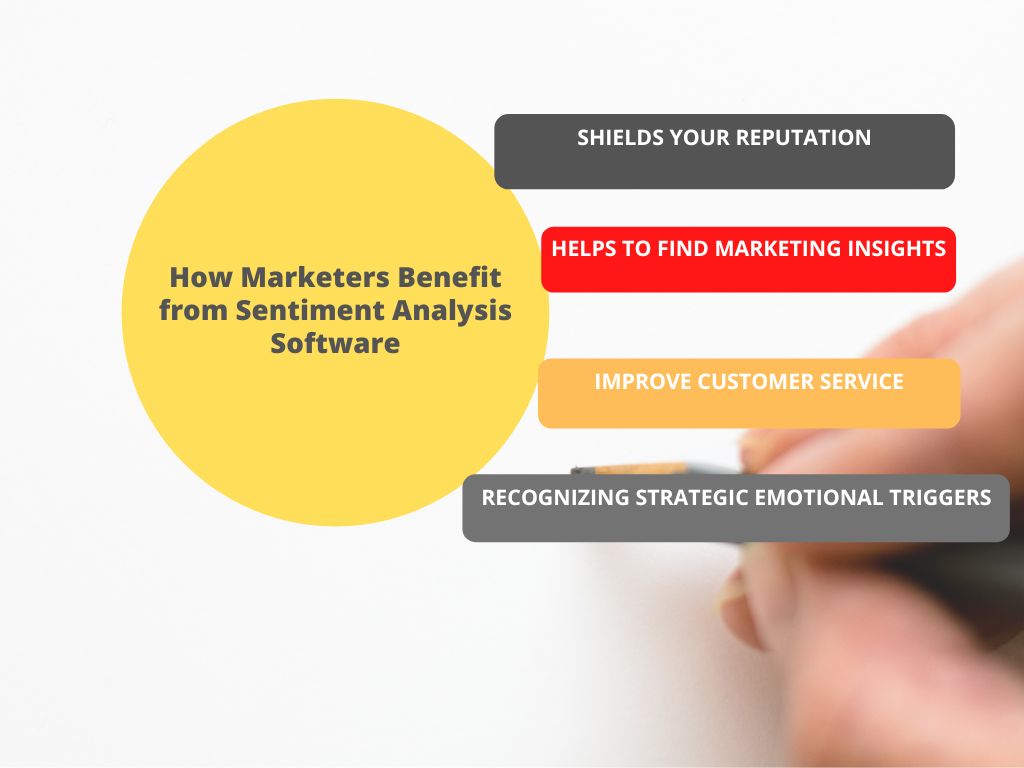 Recognizing Strategic Emotional Triggers
Recognized emotional triggers can drive your strategic resolutions. With sentiment analysis software, you can find what communications and discussions act as touching triggers that help to alter consumer mood.
Sometimes, technology can be a burden. You may not know how to make use of social media software, or what your niche needs. The software can alleviate all of these problems, helping you concentrate on the things that really matter.
Social media, for example, is full of buzzwords and marketing jargon, such as reviews, customers, content, and much more. A sentiment analysis tool can clear up the confusion, giving you a succinct view of how you're doing.
But remember, at the same time, don't let technology drive your social media marketing strategy. Instead, use it to inspire and inform you.
A sentiment analysis tool is a software that studies text exchanges and calculates the tone, intent, and emotion behind every communication related to your brand.
Sentiment analysis tools became an integral part of social media marketing strategy.
Many people are drawn to brands that they know and trust, which is evident in the tone of their reviews. With a sentiment analysis tool, you can easily track how you're doing in the market.
Sentiment analysis is beneficial for marketers because it allows them to understand the public's perception of their brand or product. This information can help marketers adjust their marketing strategy, accordingly.
Sentiment analysis can be a challenge for small businesses that don't have the resources to hire a marketing agency or dedicate their own staff to it. But there are tools that can help.
Larger brands are increasingly leveraging the power of social media and the Internet to stay connected with their customers. They, too, want to leverage social media as a tool to understand customer sentiments towards their products, and hence deploy sentiment analysis for the same.
Want to learn sentiment analysis to attract more customers and increase your sales?
How does Sentiment Analysis Tool work?
Sentiment Analysis tool gathers discussion data about your business or relevant key phrases you want from the web and classifies them as:
      • Positive
      • Negative
      • Neutral
You can count those discussion mentions, measure the reach and engagement as well as compare your brand mentions with your competitors.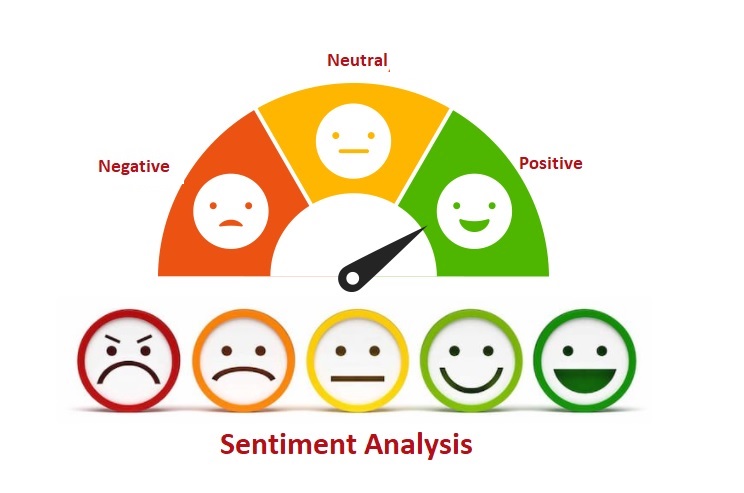 Sentiment Analysis software is based on modern machine learning algorithms. Be Grateful that we can analyze sentiment and recognize the content of words' context with human-like accuracy!
In essence, sentiment analysis refers to what people are saying about your product, service, or brand by using data. In today's world, we go beyond vanity metrics like likes, mentions, etc.
An analysis of sentiment on social media involves collecting and analyzing information about the posts people make about your company.
What are the advantages this kind of analysis has to offer?
It gives you an understanding of what people are saying about your brand. How are they feeling about your brand? Do most of them like it or dislike it? Why? Social media sentiment analysis helps you answer these types of questions.
Another way is to deploy Natural Language Processing (NLP) to extract information from text data, which, in turn, can then be used in computations. NLP is a subset of artificial intelligence and is increasingly being used to connect text analytics with sentiment analysis.
Measuring Brand Sentiment On Social Media
While the concept of sentiment analysis may be simple, the technology for creating such systems is not. Sentiment can be hard to measure accurately, especially when you're trying to analyze how customers or clients are feeling about a company and its product.
There's no one number that can show just how many people like a brand, are loyal to it, or just aren't big fans.
Though we can take the general feelings of people who talk about the company on their social media pages and tweet about the brand, those are one-time votes.
Most people don't feel passionate about products or their companies, and for those who do, it's hard to find a consistent sentiment. It takes the magic of sentiment analysis to understand what's happening on social media.
Such analysis will allow you to find out when a customer is happy or unhappy with a product, as well as how other customers have felt about it in the past. When someone mentions a brand in their posts, the sentiment of that post becomes a number between -1 and 1.
A sentiment of 0 means that a person is neutral about the product. The higher the number, the more positive it is.
Various Sentiment Analysis Tools and What's Right For Your Company
In addition to monitoring the brand, the other typical use cases for sentiment analysis includes handling customer complaint tickets and Voice of Customer Analysis. All of it can be automated, saving your business time and money.
Much of the time, you won't be able to find out the exact sentiment a product evokes. But it can help you figure out how happy people are with the product or service on average. This can give you a general idea of how to market the product or service, or figure out which things might be working for and against them.
The process works in the opposite direction, too. If you run sentiment analysis on your brand's posts and tweets, you'll get a general idea of how people feel about it. You'll be able to analyze what people are saying and spot trends that might be important for your company.
For marketers, what role do social media analytics tools play? They make it easy for your business to track and analyze social media results.
There are two ways your business can go about it: either build your own solution or buy a tool available in the market.
Most SaaS tools allow you to use pre-trained sentiment analysis models right away or train your own, often within minutes.
You should use these tools if you don't have a data science or engineering team on board, since they can be implemented without much coding.
Express Analytics, for example, offers localized sentiment analysis and analytic services to help your business stand out from the competition and drive foot traffic.
Our sentiment analytics CDP-based model uses localized intelligence in real-time to drive continuous improvement at your locations. Our solution requires zero coding skills.
If you do decide to build your own application, because of their communities' inclination toward data science such as natural language processing and deep learning for sentiment analysis, open-source libraries in languages like Python and Java can come to your help here.
But remember, a team of engineers and data scientists will be needed on board, as well as a huge upfront investment-wise.
In Python, some of the popular libraries to build an NLP model include scikit-learn. Then there is SpaCy, Tensorflow, and Pytorch.
In terms of functionality, how do build versus buy compare? Well, both offer different features and benefits. For example, some allow you to schedule posts, whereas others enable you to create content. However, all of them include the ability to manage your fan or customer base.
How to Select the Right Sentiment Analysis Tool
Find out if the tools must match your business needs, preferences, and culture.
Test-drive several solutions before making a decision.
Seek out new solutions when you find yourself in uncharted territory.
Ensure the tool has the ability to query millions of social media channels at once. This makes it easier for brands to track all their social media channels in one place.
Before finalizing a sentiment analysis tool, you should ask yourself several important questions, like:
Why do you need it?
Do you want to analyze the content of customer feedback to improve your product or service?
Or do you want to monitor social media to identify your brand's reputation and customer service performance?
Then, what is your budget?
Finally, which features are most important for you and why?
Is Sentiment Analysis Software only Helps Marketing Motive?
Certainly not! There are several things that you can do using sentiment analysis software. Be grateful to merge web monitoring with sentiment analysis data.
Enhances content with data
If you are a media publisher, anchor, journalist, scholar or content manager, product manager, and eCommerce manager your services, stories, and products will be even more trustworthy with sentiment analysis data.
Even You Forecast Market Fluctuations
You can use the word predictive sentiment analysis to signify the method in which sentiment analysis software is used to predict the fluctuations of any market with positive, negative, and neutral mentions.
Research any subject you need
It forecasts trends, election outcomes, does social media research, or validates sentiments about your services and products.
Download Free e-Book to Understand What VoC Analytics is
In conclusion: Larger and even medium-sized brands are increasingly leveraging the power of social media and the Internet to stay connected with their customers. They also want to leverage social media as a tool to understand customer sentiments towards their products. Selecting the right sentiment analysis tool or developing one in-house to measure emotions depends on several factors, including a budget, and whether you have the time to keep up with your entire social media strategy.