Role of Social Media, Data Analytics in (Loksabha) General Elections 2014 in India
(Our objective through this article is to provide insights through the use of data analytics and social media for  informed decision making.)
Recently 16th (Loksabha) General elections were conducted in India. They were conducted in 9 phases across the country. Even before the elections were announced in mid-March 2014, people in India were very active on social media about the elections and their candidates. These elections have attracted the whole world media, reports say they have been one of the most observed elections so far in the largest democratic country in the world, with 814.5 million voters (81.45 crores) including 100 million (10 crores) first-time voters.
Use of Data Analytics and Sentiment analysis by political parties in elections
With national general elections underway, some parties appeared to have an edge, as technology, social media, and big data played a key role in connecting with voters. Data mining from real social media like Facebook and Twitter included voter sentiments, emotions, and concerns in different constituencies and states. India's political parties used this data to prepare a manifesto, ways to reach voters effectively, drive donations, enroll volunteers and organize resources on the ground to improve the effectiveness of everything from door knocks and phone calls to micro-messaging and social media.
Today, data is analyzed not just for research, but it is also used to analyze real-time monitoring of people's reaction to politics, policies, and also in rapid responses to crises. Data analytics plays a significant role in changing political outcomes in elections time. Studies revealed that in more than 160 out of 543 constituencies, the impact of social media was high enough to determine the results.
"Modi is perhaps one of the most tech-savvy politicians in the world and certainly the most active in India," says Amit Sheth, a professor at Wright State University's Knowledge Computing Center in Ohio.
BJP, the winning party in these elections had developed their own customized digital tools based on both commissioned and open-source data that put them in direct touch with voters. Narendra Modi – the newly elected Prime Minister of India had 3.67 million followers on Twitter, 15 million likes on Facebook, and the party's 68 million page views on Google+. This was revealed by Aravind Gupta – Head, BJP IT cell and social media center. Few key metrics decided the results of the candidate and party in a given constituency. Most of these metrics were provided by data analytics and data mining from social media.


I being a part of the IT cell BJP Karnataka, would like to describe our game plan on how we operated during the elections. This was carried out at each Assembly constituency level. It was operated at 2 levels, the general public level, and the (Karyakarta) volunteer level.
1)      PUBLIC ORIENTED – EDUCATE, MOTIVATE
Social Media – Facebook, Twitter, Google+ hangout, shared the achievements of Narendra Modi, failures of UPA, and individual achievements of the candidates to the relevant groups.
Connected with group administrators of different groups that already existed on Social media for each (Vidhansabha) Assembly constituency and posted relevant, inspirational information each day.
Achievements of the candidates in their own constituency were published on their websites. The websites were updated with activities, tour plans, etc, and the details were shared on social media frequently.
BULK SMS- were sent to as many people as possible on regular basis.
2-3 emails were sent out regularly daily.
Groups were created on WhatsApp Messenger, which is a cross-platform mobile messaging app that allows exchanging of messages was used to pass on information, for the flow of effective messages/pictures to different existing WhatsApp groups by the group administrators
Messages and pictures were posted that motivated the public, especially youngsters to vote and explained the need of the hour in different messages (email, SMS, Whatsapp, social media, etc).
 2. (KARYAKARTA)  Volunteer  ORIENTED – EDUCATE, EQUIP
(Karyakartas)  volunteers groups were created for each (Loksabha) general constituency in emails, mobile, and WhatsApp, and other social media. Ideally, this is called a Distribution list.
The relevant and required information was sent to the (Karyakartas) volunteers working in the field. It educated them with different facts that were available online, on Facebook, and in other media. Every day they were sent short SMS, emails or presentations, pictures through Whatsapp.
The electoral, previous election details of each (Loksabha) general constituency in the form of presentations were shared with the campaigners working in the field.
Unique experiments which were carried out in any constituency were shared with other constituency campaigners through short SMS, emails, etc.
Provided different questions along with answers any campaigner may come across while working on fields that were similar to FAQs
Data Analytics Use By Electronic Media
Electronic media has extensively used data analytics while delivering news during elections. This has helped them in understanding viewers' concerns, trends of different political parties, politicians across the country. Based on that, breaking news was telecast many times. These were one of the elections where electronic media has made use of data analytics for elections more than ever before. In fact, one of the leading channels CNN-IBN had tied up with IT giant Microsoft and had set up an Analytical Center especially for these elections. Many IT companies provided data analytics services to different channels in elections time.
In fact, Reuters reported that U.S. social networking company Twitter is planning to replicate parts of its India election strategy across countries that go to the polls this year after it emerged as a key tool for politicians and media companies during the world's largest democratic exercise.
In India, Twitter Inc worked closely with politicians including the victor Narendra Modi who used the platform for election campaigning and also partnered with mobile and media firms to distribute tweets online and offline.
Now, with polling due in other nations later this year, the San Francisco-based company plans to take its India lessons abroad to expand its foothold in the political arena and increase its user base.
"The election more than any other moment provides a nice microcosm of the value Twitter can add … we are sharing widely the lessons of this Indian election around the world," said Rishi Jaitly, India market director at Twitter.
Revenue generated by social media and Data analytical companies due to elections has substantially increased perhaps two or three times than ever before.
The Pitch Madison Media Advertising Outlook 2014 estimates, released on 19 February, forecast the digital medium to contribute Rs.3,950 crore (Rs. 39.5 billion or $658.33 million @exchange rate of 1USD = INR 60) in 2014. Most of it coming during elections.
"Online as a medium to reach voters has become a really powerful one for the parties, so spending on digital will only continue to grow," said Asheesh Raina, principal research analyst at Gartner Inc.
The elections are just over and IT companies are yet to declare their revenue generated due to elections.
Facts about India and use of Social Media
There are 93 million Facebook and 33 million Twitter users
There are 600 million mobile users and most of them moving to smartphones.
Some of the data were collected from Social media about key Political parties and politicians.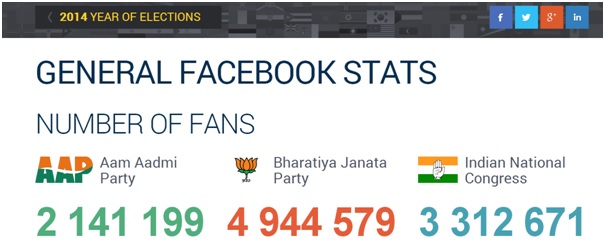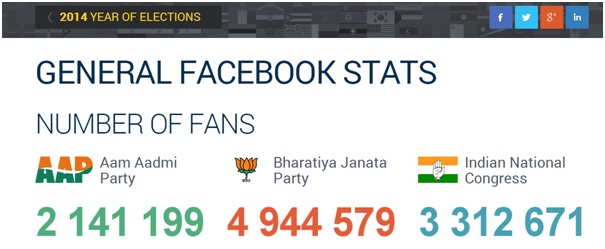 An Engine That Drives Customer Intelligence
Oyster is not just a customer data platform (CDP). It is the world's first customer insights platform (CIP). Why? At its core is your customer. Oyster is a "data unifying software."
Liked This Article?
Gain more insights, case studies, information on our product, customer data platform